Are you looking for the best browser for Android phones? If yes, then you can go through the following article and find the most useful and easily accessible browsers for Android phones.
Android phones have become one of the hottest selling mobiles today. These Android phones come with many useful apps that keep users entertained as well as carry out many tasks with ease. One of the most attractive features of many Android phones is the large display that makes Internet browsing a piece of cake. These phones come with a default browser is Google's V8 engine for Android, that gives a satisfying user experience. However, there are other browsers apart from Internet Explorer ie6 that you can download and use as your default browser for Android. Let us have a look at few of the best browsers for Android that will make your browsing experience more fun.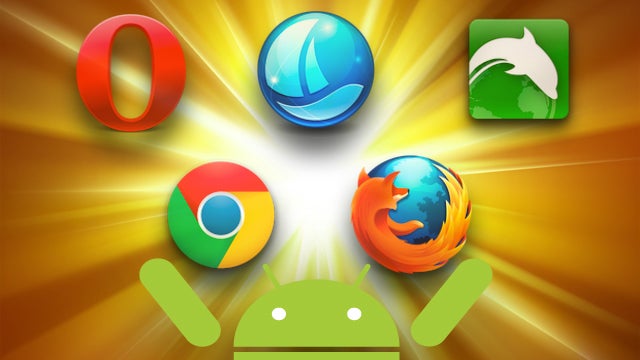 Best Browsers for Android
Many people prefer using the plain, old default Internet explorer for Android without any frills. Some go ga-ga over glamorous browsers that provide new themes and many other multi-functional options. There are plenty of useful other browsers available for Android that vouch for the users attention. Let us have a look at some of these new, improved and better mobile browsers for Android.
1. Dolphin Browser
I am an Android user myself and was very impressed by the Dolphin Browser. The interface is very user-friendly and the most attractive feature is the browsing speed as well as the tab options. It enables you to navigate between different windows without opening a new window. Another feature that I simply love in Dolphin Browser is the use of gestures that I can use to navigate on the browser. If I wish to open a new tab, all I need to do is draw 'T' on the display screen and a new tab opens. There are many such similar gestures that with a simple stroke with the finger will help me enter my commands. This browser uses Google as its default search engine.
Description:
 Dolphin Browser is the best browser for Android. Dolphin Browser provides you with fast loading speed, HTML5 video player, AdBlock, tab bar, sidebars, incognito browsing and flash player for Android. The Best Mobile Web Browser on Android Market With Over 150,000,000 downloads on Android and iOS
Great Features Of Dolphin Browser
✔ Flash player
✔ AdBlock (pop up blocker)
✔ Multiple tabs bar
✔ Bookmarks & Add-ons sidebar
✔ Incognito browsing
✔ Personalized search
✔ Fast download
✔ Gestures
✔ Sonar
★ Flash player:
Get the best gaming and video experience with flash player for Android support on Dolphin Browser only, which you can't have in other browsers.
★ AdBlock (pop up blocker):
Dolphin Browser is one of the best AdBlock Browser. With AdBlocker, you can block popups, ads, banners & ad-videos. Find AdBlocker add-on here: http://alturl.com/27rch
★ Multiple tabs bar:
It displays your open tabs, and lets you switch between them by swiping. Let you browse the web as PC Browser & desktop browser.
★ Bookmarks & Add-ons sidebar:
It can be accessed by swiping to the right from the left edge of the screen and shows your bookmarks and browsing history. Swiping to the left, you can enjoy the best services with add-ons, such as Video Downloader, Web to PDF and Dolphin Translate, etc.
★ Incognito browsing
Incognito browsing mode offers you real private browsing experience without leaving any history data.
★ Personalized search:
Easily switch search engine with Google, Yahoo, Yandex, Bing, Duckduckgo, etc.
★ Fast download:
Download HTML5, Flash videos and more with blazing fast speed from the Internet with video downloader. You can also easily delete or move downloaded files in the file manager.
★ Synchronization:
Sync your history, bookmarks, and passwords. Plus, easily open and push tabs and websites across Android, iPhone, iPad, desktop & mobile browser including Chrome, Firefox, and Safari using Dolphin Connect. You can even enjoy Flash content pushed from desktop browser with flash player for Android.
★ Clean UI and fast navigation:
Get quick access to top localized sites. You can also add your most visited websites as speed dial icons and organize them easily with a nice user interface and one-touch access.
★ Gesture:
Access the Internet by creating a personal Gesture for websites and common features. For example, drawing a letter "D" to go to Duckduckgo or "B" to go to Bing.
★ Sonar:
Dolphin Browser lets you use your voice to search, share on your favorite social networks, bookmark favorite websites, and navigate the web on your phone. Search without typing, even with Yahoo, Bing or Duckduckgo.
★ Themes:
Customize theme colors and wallpapers to make it your own.
Dolphin Add-ons
- Dolphin Video Player – Flash Player;
- Screen Cut – Screenshot app;
- Web to PDF Converter & Editor;
- Speed Booster for Android;
- Dolphin Translate - Translator;
- Dolphin QR & Barcode Scanner;
- Dolphin Reader;
- Dolphin Battery Saver;
- Dolphin Jetpack;
- Bookmarks Widget;
- Dolphin Brightness;
- Dolphin Tab Reload;
- Dolphin Show IP;
- Dolphin Ultimate Flag;
- Pocket for Dolphin;
- Dropbox for Dolphin;
- Box for Dolphin;
- Dolphin Alexa Rank.
DOWNLOAD
2. Opera Mini
Most mobile phone users love using Opera mobile browser. If you are an Android user, you too can get access to Opera Mini browser on your phone. It has a really good user interface, look, as well as design. One of the most trusted mobile web browsers it comes in different versions that suits your needs. It has a speed dial feature that allows you to enter 9 shortcuts and access them with just a click. This browser too boasts of a tab feature and a built-in search bar. However, this browser is not as customizable like the Dolphin Browser and has comparatively less speed than the default browser. It gives only Google search results and has not multi-zoom options.
Description:
The Opera Mini browser for Android lets you do everything you want to online without wasting your data plan. It's a fast, safe browser that saves you tons of data.
New features Of Opera Mini Browser:
► Block ads:
Opera Mini has a built-in ad blocker, so you can surf the web without annoying ads.
► Add to home screen:
Add the sites you visit most to your mobile home screen with a single click.
Why Choose Opera Mini?
► Customise your savings:
Choose from a full-web experience in high data-savings mode or a streamlined experience in extreme savings mode. You can also adjust image quality, boost videos and block ads.
► Keep track of your data:
You can check your savings in the settings menu and see how much data Opera Mini saves you.
► Multi-task:
Keep lots of pages open at once with tabs.
► Browse privately:
We all have pages we don't want to remember visiting. If you don't want something saved in your history, you can browse incognito with private tabs.
► Smarter downloads:
Download files in the background and hold off downloading larger files until you're back on Wi-Fi. Opera Mini will let you know as soon as your downloads are complete. Just click the notification to open your download – no more digging around in folders.
Other great Features Of Opera Mini
✔ Save your favorite sites:
Tap the + button on the search bar to save a page to your Speed Dial, add it to your mobile bookmarks or read it offline.
✔ Get the latest news:
The start page keeps everything in one place. Choose the categories you're interested in and Opera Mini will serve you the top stories and freshest content from across the web.
✔ Sync your devices:
Give yourself access to all the bookmarks, Speed Dial shortcuts and open tabs from your other devices.
✔ Night mode:
Dim the screen to save your eyes.
✔ Switch up your search:
Assign your favorite default search engine.
Download Opera Mini and try one of the fastest ways to browse the web on your mobile device.
DOWNLOAD
3. Firefox Mobile Browser
Firefox has launched the Fennec web browser for Android phones as well as a few select Nokia phone models. It gives similar speed levels as Opera and has the feature of opening new tabs. You can add mobile Add-Ons to make your browsing experience better. It has other features such as bookmarks, homepage customization, etc. Don't count on the zoom in function on Fennec.
Description:
Experience a fast, smart and personal Web. Firefox is the independent, people-first browser made by Mozilla, voted one of the Most Trusted Internet Company for Privacy. Upgrade today and join hundreds of millions who depend on Firefox for a more personal browsing experience.
★ FAST. SMART. YOURS:
Firefox is made with you in mind and gives you the power to take back control of your Web experience. That's why we design the product with smart features that take the guesswork out of browsing.
★ SEARCH INTELLIGENTLY & GET THERE FASTER:
- Firefox anticipates your needs and intuitively provides multiple suggested and previously searched results across your favorite search engines - every time.
- Easily access shortcuts to search providers
★ NEXT LEVEL PRIVACY:
- Your privacy has been upgraded. Private Browsing with Tracking Protection blocks parts of Web pages that may track your browsing activity.
★ SYNC FIREFOX ACROSS YOUR DEVICES:
- With a Firefox Account, access your history, bookmarks and open tabs from your desktop on your smartphone and tablet.
- Firefox can also remember your passwords across devices so you don't have to.
★ INTUITIVE VISUAL TABS:
- Intuitive visual and numbered tabs easily let you find content for future reference.
- Open as many tabs as you like without losing track of your open Web pages.
★ EASY ACCESS TO YOUR TOP SITES:
- Spend your time reading your favorites sites instead of looking for them.
★ ADD-ONS FOR EVERYTHING:
- Take control of your Web experience by personalizing Firefox with add-ons like ad blockers, password and download managers and more.
★ QUICK SHARE:
- Firefox remembers your most recently used apps to help you easily share content
★ TAKE IT TO THE BIG SCREEN:
- Send video and Web content from your smartphone or tablet to any TV equipped with supported streaming capabilities.
Learn more about Firefox for Android:
- Have questions or need help? Visit support.mozilla.org/mobile
- Read about Firefox permissions: mzl.la/Permissions
- Learn more about what's up at Mozilla: blog.mozilla.org
- Like Firefox on Facebook: mzl.la/FXFacebook
- Follow Firefox on Twitter: mzl.la/FXTwitter
★ ABOUT MOZILLA
Mozilla exists to build the Internet as a public resource accessible to all because we believe open and free is better than closed and controlled. We build products like Firefox to promote choice and transparency and give people more control over their lives online. Learn more at mozilla.org
DOWNLOAD
4. Chrome Browser
Another good browser for Android phones is Chrome Browser. However, I did not find it as impressive as Dolphin Browser or Opera Mini. However, this browser is able to support flash player and play flash videos on YouTube, Yahoo, etc. It allows one to bookmark favorite pages, search in the address bar on the top.
Description:
Browse fast on your Android phone and tablet with the Google Chrome browser you love on desktop. Pick up where you left off on your other devices with tab sync, search by voice, and save up to 50% of data usage while browsing.
• Sync Across Devices:
seamlessly access and open tabs and bookmarks from your laptop, phone or tablet
• Save Data:
reduce mobile data usage by up to 50% while browsing
• Faster Browsing:
choose from search results that instantly appear as you type and quickly access previously visited pages
• Voice Search:
use the magic of Google voice search to find answers on-the-go without typing
• Translate:
easily read webpages in any language
• Intuitive Gestures:
open as many tabs as your heart desires and quickly flip through them by swiping from side to side on the toolbar
• Privacy:
use Incognito mode to browse without saving your history
DOWNLOAD
5. Boat Browser
The Boat Browser was also able to catch my interest as it comes in very impressive colors and professional look. This browser has a multi-tab feature along with 9 tab shortcut option on the home page. It tends to list top 10 sites as you search and gives you RSS feeds. It also comes with a gesture option and customizable interface.
Description:
Boat Browser is a fast, smart and cool Mobile Browser; that brings an amazing Premium web experience. It is fully customizable, and you can easily change the button's locations as you choose and you can install your favorite add-ons to make your browser even more powerful!
What's special?
1. More Customizable:
We have optimized the default features listed in the (Side) Toolbar. And you can customize the features as you like: re-arrange, add and remove buttons, just by dragging the corresponding icon.
In addition to the toolbar customization, you can also personalize the background color and the action of the Volume Keys. You can set the Volume Key's action to switch tabs, scroll up/down the page or zoom into the page.
2. Personalized Themes:
Bored with the default theme? Can't be satisfied just changing the theme's color? No Problem! Boat Browser's got you covered!
Boat Browser's team will supply you more and more cool themes and styles, to make your browser completely personalized!
3. Add-ons:
An Add-on is the unlimited expansion of your browser. Customize your browser by installing Boat Add-on's that will enhance your browsing experience. These features can be easily found in the Side Toolbar, after installation.
We will continue to develop a variety of popular and fashionable add-ons. Keep your browser up to date!
4. Powerful Bookmarks Management:
Bookmarks Manager supports new folder, drag and drop, batch delete, import, export and Sync with stock browser bookmarks!
5. Side Toolbar:
You can reach the toolbar by swiping the right side of the screen. And, if you don't like it, just change the settings in setting menu. We hope it will bring you a new quicker, smarter browsing experience from now on!
6. Speed dial:
Add your favorite websites into the speed dial menu and keep them handy :). Folder for speed dials is supported (Pro feature)
7. Floating tab:
This feature supports multi-windows as PC does. You may float multiple tabs on any app.
Boat Browser also supplies some very useful features like,
- Video & Flash Video Support… (In Android 4.4 plus flash doesn't work on some devices)
- Voice Command and Voice Search…
- Support App to SD function…
- Support Cache to SD function…
- Easy file Downloading
- User Agent Switching that allows you to view websites/web pages, in many formats!
- Multi-touch Pinch to Zoom support
- Super easy copy/paste
The add-ons can be easily found by searching the key worlds below, in Google Play:
1. Boat FB Add-on
2. Boat Password Manager Add-on
3. Boat URL Shortener Add-on
4. Boat Web2PDF Add-on
5. Boat Tab History Add-on
6. Boat Show IP Add-on
Also, there are some features which need purchase license key to unlock, including:
1. Removes the banner Ads in the bookmark page and the interstitial Ads when exit browser.
2. Supports the ability to delete ALL speed dial icons, including the preset icons.
Please download license key apk file from Google play
https://play.google.com/store/apps/details?id=com.boatbrowser.license.key
About Ads:
In this free version, users may see two kinds of Ads:
1. Banner ads in some pages, such as bookmark page.
2. Interstitial ads when users exit the browser.
3. Native ads in home page, etc.
DOWNLOAD
6. CM Browser:
CM (Clean Master) Browser is an ultra lightweight mobile browser which can protect you from malicious threats and still give you rapid browsing speed.
☆ Secure: Malicious & Fraud protection!
#1 antivirus engine (rated by AV-TEST)
☆ Speedy :
Optimized for web browsing to make surfing a breeze.
☆ Small :
Tiny app size ensures your device keeps running smoothly.
CM Browser Features:
► Browsing speed acceleration
• Preload mechanism to speed up browsing
► Fraud prevention
• Warns you when browsing potentially fraudulent or malicious websites.
► Malicious download protection
• Scans apk file downloads for malware, keeping your device secure
► User Agent
• Supports user agent switching to access desktop sites
► Speed dial
► Security & Privacy
• Do-not-track settings
• Option to keep history, cookies, and passwords saved
► Page Translator
► Text search
► Font size adjustment
► Personalized bookmarks
► Gesture control for video playing
► Card tabs for multi-tab control
► Search engine switch
What's New:
v5.1.12
- Adds Pop-ups blocking to filter annoying ads
- More flexibility of management to control the content display on Homepage
- Enhances Homepage animation to make user interface more friendly
- Fixes of download related issues
v5.1.2
- Adds local weather information in the Homepage
- Delivers the latest, hot news of the world in the Hompage
- Revision of Speed Dial for more delightful design
v5.0.98:
- Further reduction of size to 1.69MB, lighter and faster
- Speed acceleration of start-up
- More compatible with flash support
- "Paste & Go" in the address bar brings you to the website in just one click!
v5.0.92:
- Extends speed dial default icons
- Bug fixes
v5.0.84:
- Enhance speed dial with more websites to place
- Long press any speed dial icon to move or edit
- Quick return to homepage via "home" button in the current tab
DOWNLOAD
So, apart from the default web browsers, you have plenty of options to enjoy your Internet searches on Androids.